Ace Hardware
Company Name: Ace Hardware
Address:
1037 Robert Boulevard
Contact Manager:
Emil Weathers
Web site:
http://www.slidellace.com/
SIC code:
5251
Industry group:
Building materials & hardware
,
Business category:
Hardware stores
Gross Annual Sales (Revenue):
1315800
Overall:
Ace Hardware is a business categorized under hardware stores, which is part of the larger category building materials & hardware. Ace Hardware is located at the address 1037 Robert Boulevard in Slidell, Louisiana 70458-2011. The Manager is Emil Weathers who can be contacted at (985)641-1404.

Description:
Hardware Stores, Hardware Stores
Working hours:
Mon: 08:00 am - 06:30 pm, Tue: 08:00 am - 06:30 pm, Wed: 08:00 am - 06:30 pm, Thu: 08:00 am - 06:30 pm, Fri: 08:00 am - 06:30 pm, Sat: 08:00 am - 06:30 pm, Sun: 09:00 am - 03:00 pm
Tags:
Hardware store
Home improvement store
Paint store
Tool store
In summary:
Very helpful friendly staff,well stocked and good selection.
Good prices, beat the big box stores.
Top notch service at this location.
Recommended:
Click here to Inform about a mistake
31
Rating:
Location & access map for "Ace Hardware"
Photo from "Ace Hardware"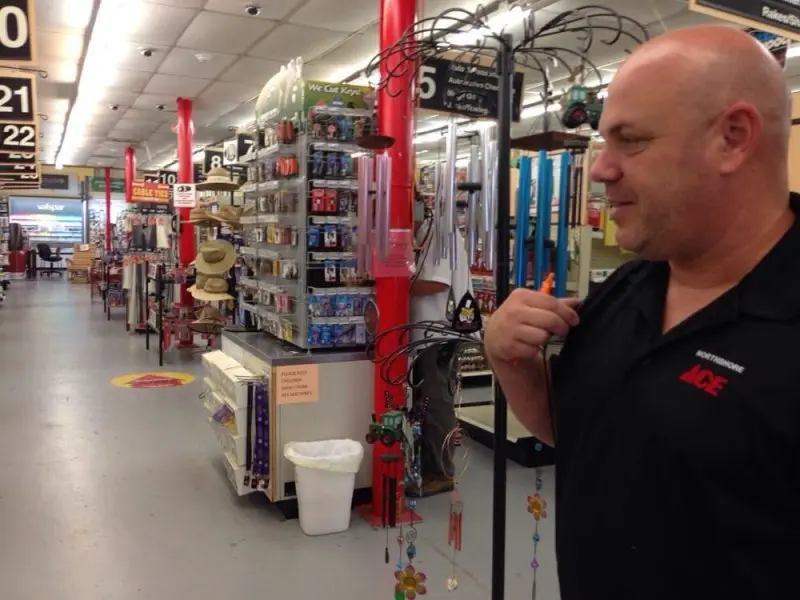 ---
Ace Hardware (Building materials)

about:
Review/Comment
Name: B.W.
Message: I visit Robert Road ACE at least twice a week ( and sometimes 3 times in a day if I'm stuck on a project! ) and I love this place! I am always greeted at the door by a friendly face asking me what I need, and they always stick with me until I find what I need and/or my problem is solved. I do a lot of gardening and am always working on an outdoor project, and it never fails, someone on the staff will help me figure out the best way to do the job or solve the problem. I needed to build a makeshift greenhouse over one of my raised beds and Jerry took the time to figure out how many pieces of pvc pipe I needed, how long each piece needed to be, and the best way to fasten it all together. It worked out perfectly! The staff are so knowledgeable and friendly, and often take the time to help me figure something out even if it doesn't require that I buy something there. That's how you know they genuinely want to help. My grandpa owned one of the first stores in Slidell way back in the day, which eventually became Mire's Hardware. When I am in Robert Road ACE, I feel like I have stepped back into the past, when people really cared and took the time to help, like it was in my grandpa's store. Robert Road ACE is a one-of-a-kind place!
Name: J.P.2.L.T.
Message: Worked here 20 years ago so I'm obligated to give it 5 stars. I was a sub par employee yet they tolerated me.
Name: M.B.
Message: Love this place. They are always amazing and at the ready to help. I needed some stuff for my pool and they were a big help.
Name: T.B.
Message: There is no better service you can get than that at Ace Hardware on Robert Blvd. This is not based upon a single visit but on multiple visits over 30+ years. I will continue to support and purchase from this store regardless of any small price differences between Ace and the big box stores because the service is just that good.
Name: K.W.
Message: Super nice employees, but the prices are outrageous. I know you pay more at smaller stores and that is fine, but $1. 86 each for small washers? That is ridiculous.
Name: A.A.
Message: I love this Ace. when you walk in almost always someone says can I help you find what you need ?you don't have to walk 2 miles to get it. everybody's super friendly, knowledgeable. Great store!
Name: H.T.
Message: My go to place for keys. They always do the keys correctly. Awesome store with seasonal vegetables and herbs. Much faster than Walmart. I have been here several times to get little things to fix my apartment. They are always super helpful and make sure I get the right hardware.